Fare Rules and Change / Refund Fees
What form are Fare Rules presented in on OneTwoTrip.com?
Fare Rules are set out by airlines and are presented on OneTwoTrip.com in the same form they appear in reservation systems.
What is most important of Fare Rules?
According to the statistics we collected, about 5% of customers cancel their bookings submitting refund requests or make changes to their bookings. Fare Rules determine refund or flight date change penalties.
Fare Rules lay down all restrictions and terms of refund / change (time limits, possible penalties and extra charges). Very often cheap flights are non-refundable so it is necessary to read corresponding sections of the fare rules while booking to avoid any possible complications.
Thus, it is important to know that in case of no-show for the first segment of the flight, all subsequent segments will be canceled. However, passengers may submit refund requests according to the No-Show Section of the fare rules.
What other information do Fare Rules contain?
Fare Rules lay down conditions of sale of flight tickets and how passengers should use them. Fare Rules include the following: 
Principal Conditions
Seat selection
Open-ended flight tickets
Minimum and maximum period of stay at points of destination
Stopovers at connection points
Upgrade class of service at check-in
Combination of fares
Refund Fees
Flight ticket refund more than 24 hours prior to departure
Flight ticket refund less than 24 hours prior to departure
Flight ticket refund after departure (conditions of booking cancelation, No-Show conditions etc.)
Booking Change Fees
Change of flight conditions (depending on availability of the fare paid)
Change of flight conditions in case of no-show
Discounts for children 
Free baggage allowance
Where can I read the selected fare rules?
The selected fare rules are available for review on the booking page, on the checkout page, as well as in the Customer Profile after completing your booking.
Example of a booking page: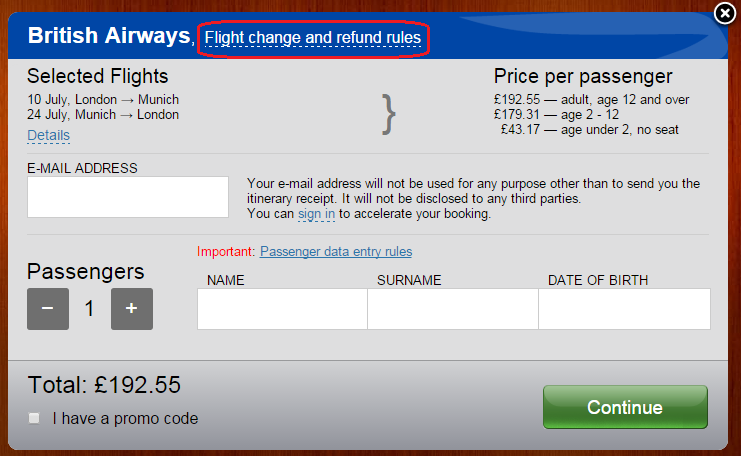 Example of a Customer Profile: