OneTwoTrip customers can select flights from 79 low-cost airlines, among which are such carriers as  AirAsia, Germanwings, RyanAir, Vueling and others. Thus, OneTwoTrip offers its customers cheap flights to tens of thousands of destinations, operated by low-cost carriers from 1906 airports worldwide, including 54 Russian airports. 
A low-cost carrier is an airline that generally has lower fares in exchange for fewer comforts and services. For example, a low-cost fare may not include a baggage allowance, in-flight meals or check-in at the airport (online check-in is still available for free). Should you need these services, you will have to pay an extra charge. 
Low-cost carriers feature some or most of the following principles to lower their fares:
- Single passenger class;
- Standardized fleet, new aircraft purchased in bulk;
- Minimum set of optional equipment;
- Online ticket sales (non-stop flights only);
- Fares increase as the aircraft fills up encouraging early bookings;
- Rapid turnaround at airports with more flights per day;
- Charge for all services and conveniences on board (including on-board services, reserved seating, extra baggage, in-flight meal and beverages);
- Flight attendants work multiple roles (aircraft cleaning, gate agents, check-in).
A low-cost flight is marked with a LOW COST sign on the search results page: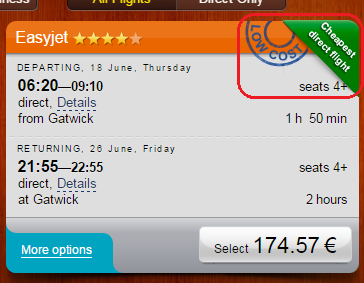 The same sign is displayed on the booking page: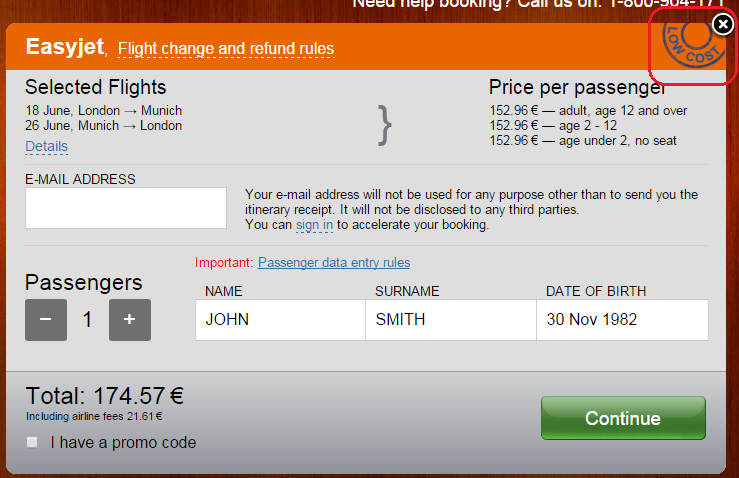 Please note that all low-cost flights are non-refundable and non-changeable: